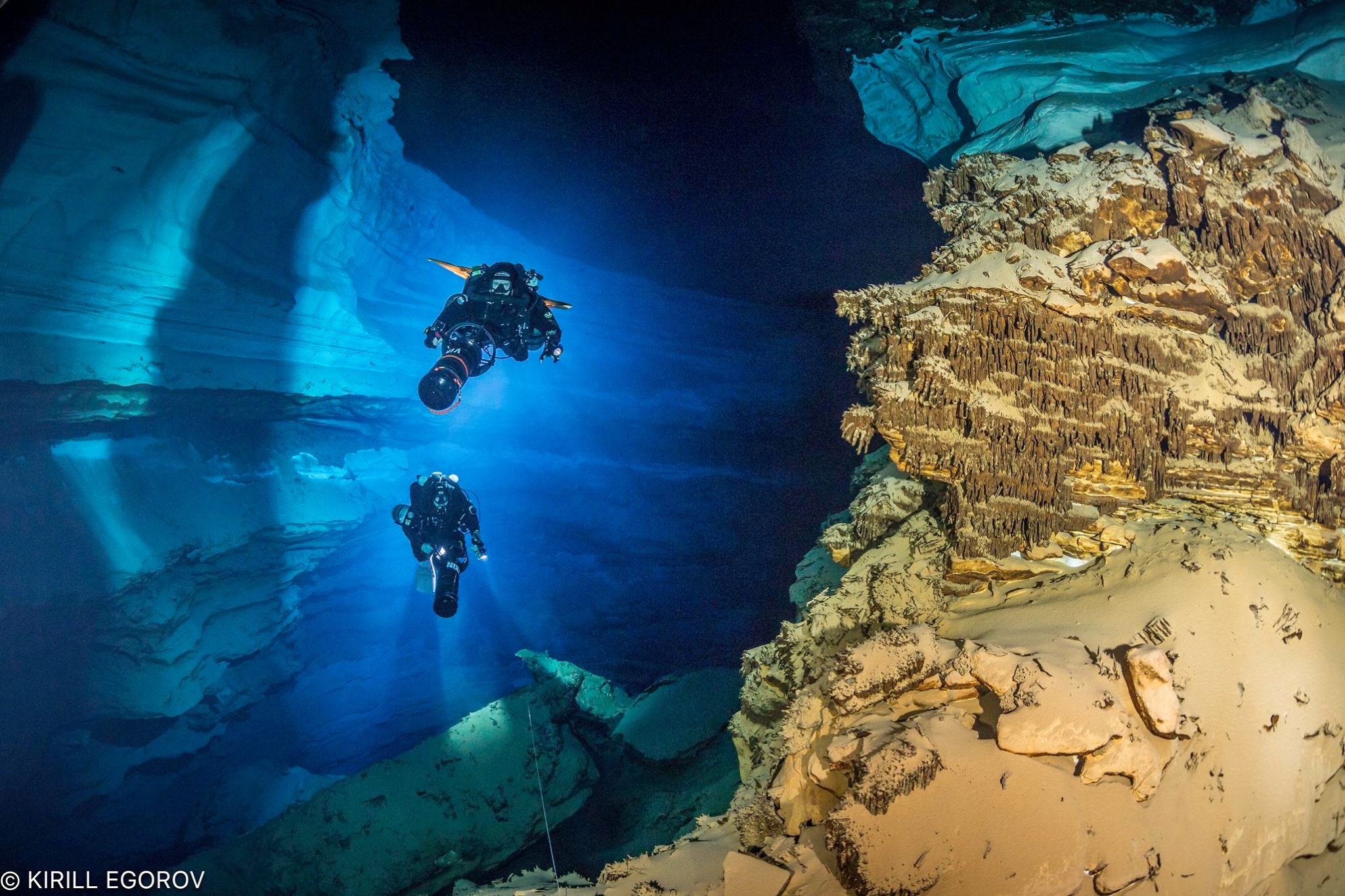 Our underwater cave exploration group, Karst Underwater Research, has been exploring underwater caves in Florida and elsewhere in the world for over 20 years. Our projects encompass the whole range of caves… From small muddy shallow sumps to huge clear deep tunnels, but if one characteristic could be said to define many of our most challenging projects, it would be awkward logistics. Like some other exploration groups, we have been early adopters of closed circuit rebreathers (CCRs) but have always planned conservatively for failure with generous amounts of open circuit gas for bailout.
As penetration distances have become longer, we have needed to stage increasing numbers of open circuit cylinders for exit and decompression, and these sometimes end up remaining in the cave for many months or even years as diving windows open and close. Even if access remains possible, dives to 4,500 meters or 15,000 feet plus to check and replace bailout cylinders are significant in themselves. If this is left to an exploration dive, there is a significant chance that at least one bailout cylinder will have leaked enough of its contents to make it useless, forcing the exploration divers to make the unhappy choice between aborting the dive and proceeding with suboptimal bailout. As penetration distances increase, the number of bailout cylinders and therefore the probability of one being empty also increases. In Weeki Wachee, the spring water has a relatively high ionic (salt) content, so it aggressively corrodes safety cylinders. Often the corrosion happens at the contact between the dissimilar metals of the aluminum cylinder and the brass valve, causing leakage from the tank neck o-ring. All other components of a safety bottle also take a beating: regulator first and second stages, gauges, and rubber hoses.
By the summer of 2017 we had started to push beyond 6,000 meters or 20,000 feet in Lineater Spring. The problem of safety bottle failure had started to become serious when the Suwannee River rose, reversing the spring flow and locking us out. We didn't know at the time that it would be nearly two years before another exploration window opened but we were fed up with the expense and disruption of failing safety cylinders. At that point we approached Jarrod Jablonski and Mark Messersmith about the possibility of using a sidemount RB80 as a gas extender for bailout gas.
The obvious question to ask is: why not just take a sidemount CCR? We are quite comfortable with this technology and indeed already use them for other sidemount exploration projects. The one-word answer is simplicity. A CCR comes with a set of complex attachments: PO2 gauges, heads-up displays (HUDs), manual addition valves for both oxygen and diluent, which must be integrated with an existing and equally complex backmounted CCR gear configuration. It is difficult to be streamlined in a backmounted CCR, harder still to be streamlined in a sidemount CCR, and next to impossible to be streamlined in both. Additional questions arise: should the diluent and oxygen supplies be shared between the two systems? 'Yes' means lack of true redundancy, 'no' means additional bulk and complexity.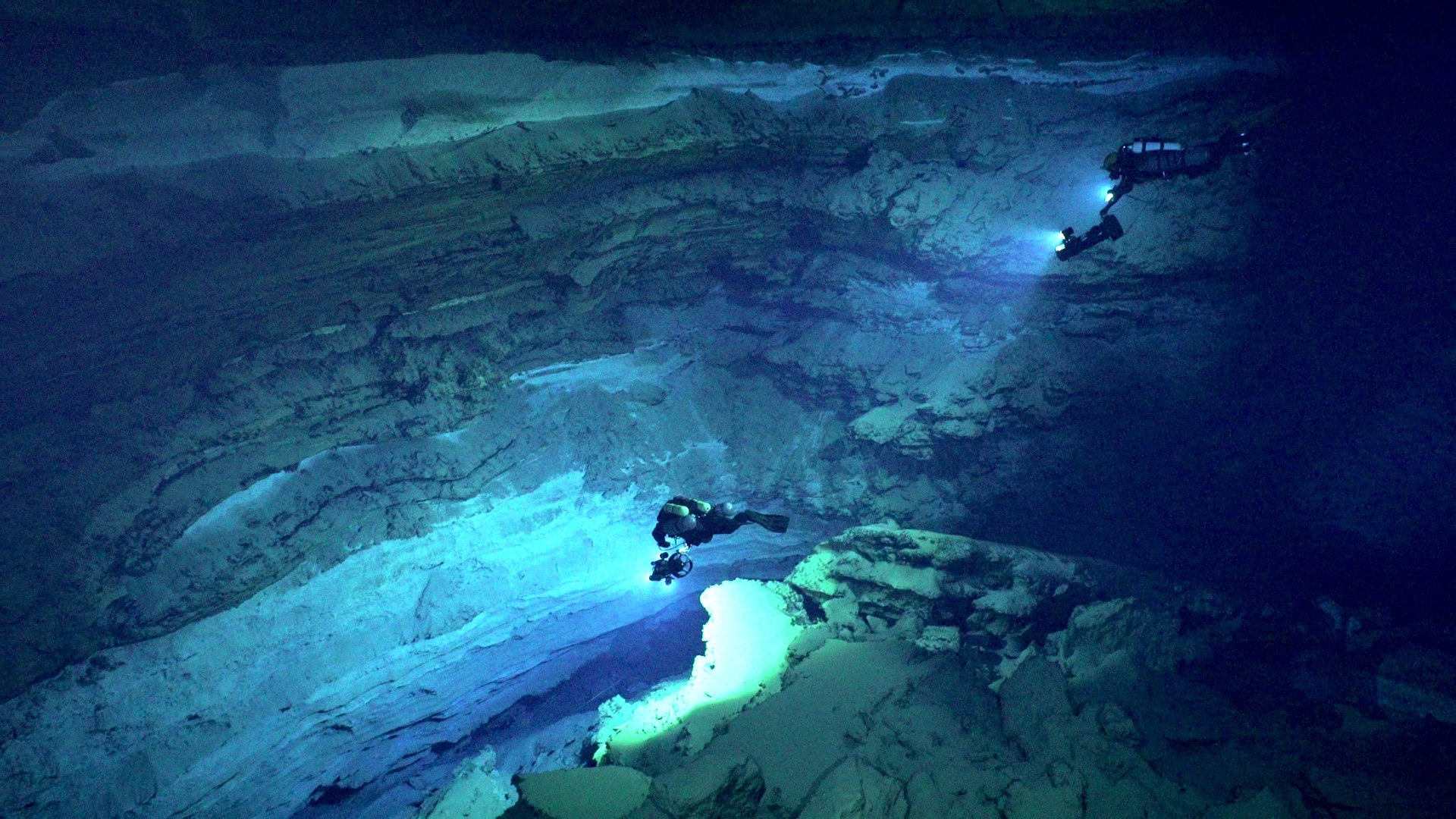 In contrast, the beauty of a pSCR is that it can be added to our existing exploration configuration very easily. It requires a single diluent feed, typically via a QC6 connector from one of the sidemounted bailout cylinders, and can be carried on top of it, placing it in an optimal position for hydrostatic loading and adding almost no additional height or width to the diver's profile. Its' simplicity means that it can be handed off between team members in the event of a problem with one diver's bailout SCR, providing a second layer of redundancy. We have practiced this very maneuver which, while a little awkward, gives a significant boost in confidence when you are a few miles and a couple of hours of scootering from the cave exit.
There are two potential disadvantages to using a pSCR compared with a CCR. The first is obvious - it is less efficient. However, against the background of our existing bailout paradigm of plentiful open circuit gas, its' ability to multiply each stage's duration by a factor of 8 is more than enough, particularly at the relatively moderate (45 meters or 150 ffw) average depths of caves like Lineater. The second is the oxygen drop, inherent to any SCR, which has required us to alter how we plan the oxygen content of all bailout mixtures, and in places substitute additional decompression gas mixes. Although all of us using the RB80 have been trained in its use, and understand the oxygen drop well, we have instituted the additional step of marking on each bailout cylinder a minimum SCR depth. This is unmistakably distinct from the conventional maximum operating depth (MOD) stickers and does not negate the requirement for every RB80-using diver to understand the danger of hypoxia; it merely provides additional confirmation, for a diver who may be task-loaded during an emergency exit with a flooded primary CCR, to be reassured that the drive gas they are about to plug in will be safe.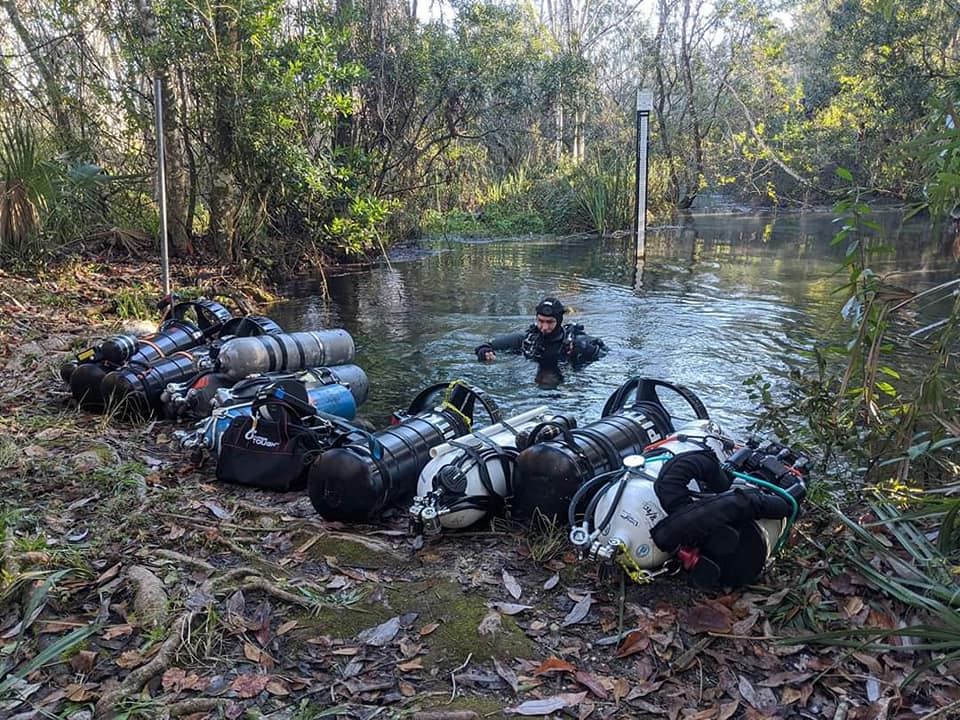 The Halcyon RB80 has proved itself to be more capable than expected. The quality of construction is obvious on the first disassembly, a robustness that engenders real confidence in a critical life-saving device. The two gas injectors provide important redundancy in a unit that is not being used continuously, and its' excellent water-clearing abilities are a bonus. It is neutral to slightly buoyant in fresh water, causing less disturbance to trim than a single stage cylinder, and the sidemount head allows the loop hoses to be directed across the diver's chest and clipped to the opposite shoulder D-ring for easy use.
It is undeniably true that "simplicity is the ultimate sophistication," even if Leonardo Da Vinci never said it. The RB80 has proved itself to be close to a perfect tool for this particular application, far exceeding my initial reserved expectations. The term "game changer" is rather devalued by overuse, but in this respect the Halcyon RB80 truly is one.