Some say we all began as potential divers. For all humans, amniotic fluid was our first home—one where we floated safely and comfortably in utero, until we were rudely ejected into a dry world with gravity. So while it may be true that perhaps we were all born with the potential to dive, one absolute truth is that not all divers were created equally. Halcyon Ambassador Frankee Hoss was dealt a different reality.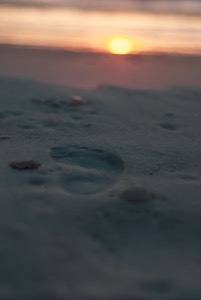 Frankee was born with a very severe club foot. In infancy and as a toddler, she underwent multiple corrective surgeries that were never truly successful, causing her to live year after year with chronic, unrelenting pain. Frankee, in spite of trying to make the best of her situation, couldn't walk long distances, nor could she participate in sports or active games all throughout her childhood.
One thing that gave Frankee solace was family vacations to the ocean. In the sea, she felt no pain from walking, so she took every chance she had to be submerged. Once there, she refused to leave, and her mother would have to coax and drag her to the shore. To this day Frankee acknowledges special thanks to her mother for allowing her to find happiness in the water.
Fast forward to her college days, when she was required to enroll in some form of physical fitness, which she dreaded, fearing that her foot would make it impossible for her to participate. When she saw the course choices, her eyes locked on "Open Water Scuba Diving," and she decided that might offer her the best chance. She signed up, and when she attended the first class, she was immediately hooked. All she could think about was when the next pool session would be and how she could get more time in the water.
While Frankee had believed swimming in the ocean gave her freedom, Scuba enhanced that feeling tenfold. She took a chance and asked her instructor Michelle Kraft if she could join in on more pool sessions with different classes so she could improve as a diver. Michelle agreed, and together they worked on finning techniques, air consumption, and anything Frankee could come up with to be able to don her gear, enter the water, and feel free for a half hour. The two became fast friends and thanks to Michelle, Frankee was challenged to become a better diver—and more responsible in the water—despite her disability.

Toward the end of Frankee's scuba course, when it was finally time to do the check-out dives, that was when she met Josh, a student also in beginning-level classes. The two dive buddies clicked instantly, as both were always ready to go diving. And Little did she know that Josh would be her best friend and, eventually, her future husband!

As the years went by, Frankee and Josh became more involved with Dive Shop San Marcos. They worked their way up through certifications and were soon helping out with the dive shop classes. After a few hundred dives in the Texas lakes and a few trips to tropical waters, they decided to move to Florida, a state full of incredible ocean- and fresh-spring diving.

One fateful day, Frankee's clubfoot buckled under her. The pain was excruciating—worse than anything she had ever experienced before. After numerous diagnostic procedures, Frankee learned that the bones in her foot had never fully developed; therefore, the pain was due to severe arthritis as well as from all her previous attempted corrective surgeries. Her doctor explained that in order to save her foot he would have to perform a fusion, but even with that possible solution, he could not guarantee that she would no longer be in pain. He explained that he would need to fuse the ankle, but in time the rest of her foot would need the same treatment and that she would endure years of surgeries in order to hope for any quality of life. He also told her that, for her, walking again comfortably was not in her foreseeable future.

Three months from that day, on January 17, 2022, Frankee became a right-below-knee amputee.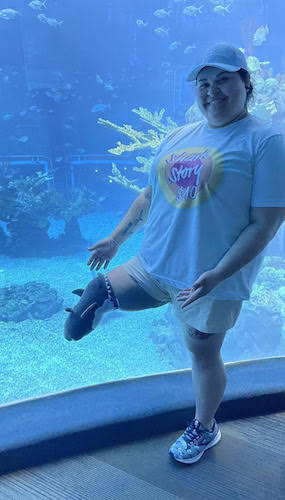 The phrase, "If we are trying to save the foot," gave her a thought. What if they didn't try to save the foot? What if amputation was a better option? What if that option would give her a better quality of life—one that included her ability to actually walk? Frankee's physician confirmed that amputation would most definitely aid her in having a life that involved her ability to accomplish much more than she would be able to with the alternative. Frankee then asked the question that was most important to her: "If I go through with this, will I be able to dive again?"
Her doctor happily shared success stories of some of his other patients who, faced with the same decision, chose amputation and lived fulfilled lives participating in activities they loved and had been denied before.

She took her first post-surgery steps about eight weeks later. And then, the moment she had been waiting for, Frankee made her first dive nine months after her amputation, and she felt like she was right at home again. And today, you can continue to see her diving around Florida!

From Frankee: "Just walking into our local dive shop and knowing that the diving community is where I belong made all the difference in the world. After years of hard work and becoming a better diver, this was who I am, and it wasn't an option to give it all up. Everything I went through made it all worth it to not give up on my dreams. My journey as an adaptive diver has just begun. Still, I look forward to all the adventures to come and hope to inspire anyone facing challenges to know that they don't have to give up on their dreams or the things that make them who they are."
Photos provided by Frankee Hoss