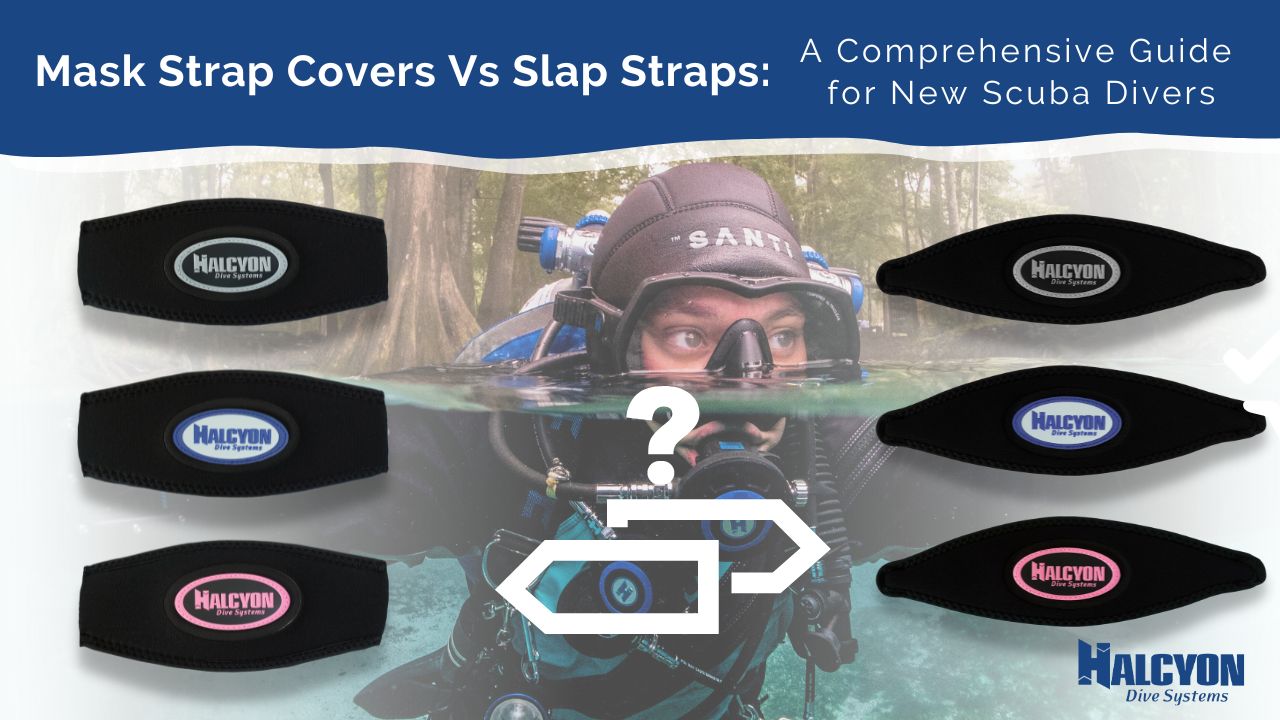 As a new scuba diver, you may find yourself overwhelmed by the variety of equipment available and the decisions you need to make. One such decision is choosing between a mask strap cover and a slap strap for your scuba diving mask. Both items have their pros and cons, and understanding these can help you make an informed decision.
Mask Strap Covers
Mask strap covers are essentially a sleeve that fits over the original mask strap. They are designed to make donning and doffing easier and minimize hair tangling and discomfort, a common issue that usually comes with new masks.
Pros of Mask Strap Covers:
Comfort: The primary advantage of a mask strap cover is the added comfort. The cover prevents a mask strap from pulling and twisting your hair, making the diving experience more enjoyable. Many people find that a strap cover also simplifies donning/doffing your mask as the strap is held together in a more streamlined package.
Adjustability: A mask strap cover allows for easy adjustment during the dive, working in the same way your normal quick-adjust strap operates. This flexibility can be beneficial if you need to tighten or loosen your mask underwater.
Style: Mask strap covers often feature a brand logo or other design and come in various colors, making them a nice styling accessory.
Cons of Mask Strap Covers:
Durability: While mask strap covers add comfort, they do not impact durability. The original strap and its inherent weak points remain a potential concern.
Slap Straps
Slap straps are replacements for the original mask strap. They are typically made of neoprene, (like a wetsuit) or microfiber, which is soft and won't grab your hair.
Pros of Slap Straps:
Comfort and Convenience: Like mask strap covers, slap straps also provide comfort and prevent hair tangling. They are wider and spread the pressure across a larger area on the back of your head. They are also pre-sized before the dive, making it quicker to put them on your face.
Durability: Slap straps are typically less likely to break than most original mask straps. Once properly sized, you no longer need to adjust the strap, reducing the risk of breakage caused by frequent adjustments.
Consistency: Slap straps provide consistent tension every time, as they do not slip or slide once attached. This feature ensures that your mask fits perfectly on every dive.
Customization: Slap straps come in hundreds of designs and colors your dive buddies.
Cons of Slap Straps:
Adjustability: The advantage of consistent sizing with slap straps also means they are harder to adjust during a dive. This means you should check the mask fitting before a dive, especially when changing hoods or other items that will impact sizing.

The Verdict
Both mask strap covers and slap straps offer solutions to the discomfort caused by most mask straps. Your choice between the two will depend on your specific needs and preferences. If you value the ability to adjust your mask during the dive, a mask strap cover may be the best choice. However, if you prioritize durability and consistent tension, a slap strap could be the way to go.
Remember, the most important thing is that you're comfortable and safe during your dive. So, take the time to try on different options and see which one works best for you.