Mexico's Yucatan Peninsula is considered to be one of the premier spots on the planet for cave diving. Covering over 250,000 square kilometers, this large limestone platform has abundant cave passages and ideal conditions both above and below the water.
Entrances into this karst wonderland are called cenotes, a derivation of the Mayan word "dzonot" which means "sacred well." Current thinking is that over 8,000-10,000 cenotes exist across the broad expanse of the Peninsula, and of these, only a small fraction have been located and explored.
As any cave explorer here will tell you, all exploration in this area begins with a walk in the jungle.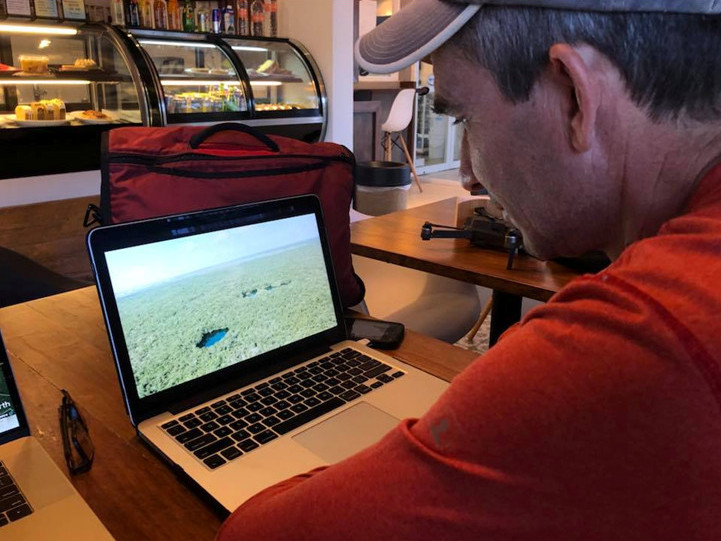 Finding a cenote is the first step of many along the way to finally being able to dive.
We have many advantages today that we did not have 20 years ago, incuding the use of remote sensing (satellite data, LiDAR, drones, etc.) and professional grade GPS allows us to find cenotes hidden deep in the jungle.
A Geographic Information System (GIS) helps us to organize, analyze, and visualize the data we collect along the way to the cenote. Even so, significant challenges remain.
The greatest challenge is getting our gear out to the edge of the cenote to go diving. Over the years, we have used human power, horses, helicopters, and a variety of jungle vehicles straight of a Mad Max movie to aid us in transport.
But now, more than ever, the cenotes we explore are more remote and more challenging to access.
So what does it take to go the extra mile (literally) to get out there and explore?
The jungle of the Yucatan can be a daunting place to work. It is hot and humid, filled with insects, venomous reptiles, thorny vegetation, and sharp limestone. It is easy to get hurt here, which is the last thing we want to occur. Knowledge of the jungle environment, good physical fitness, a positive mindset, a small team ethic, and the application of some common sense rules (similar to what we learn as cave divers) are what can make the difference.
Knowledge of the Jungle Environment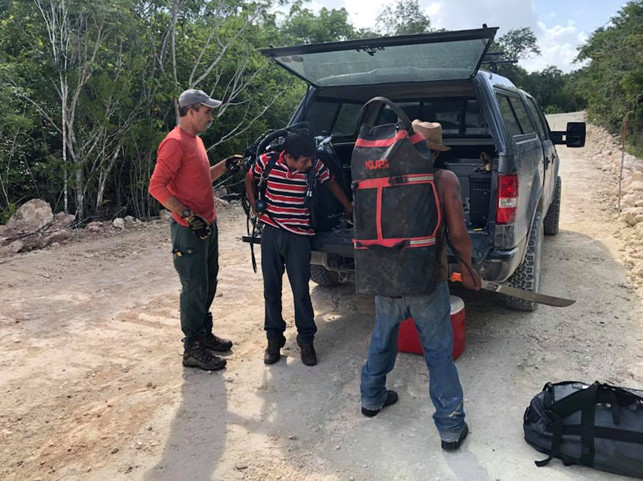 Over the years, we have learned a great deal about how to operate in the environment of this region.
Small lessons learned along the way through our own mistakes and a tremendous amount of information passed down to us from the Maya community we work with have shaped our understanding of this world. One lesson is the use of machetes.
There is a romantic notion about chopping your way through the jungle. The reality is that the more you hack, the more tired you become.
The more tired you are, the more likely you are to sever a limb. And that is what almost happened to one of our team members years ago.
From that point forward, we only use machetes when we have to. If we need a trail made, we hire people that know what they are doing.
A lesson from our Maya mentors? When you stop walking always look down, and before you put your hand out to grasp something make sure you can see what you are going to grab. Standing in an anthill or grabbing a cactus is no fun at all!
Fitness, Mindset, Team
Given that we sometimes have to walk for upwards of a mile to get to the edge of the water and that we can be carrying a substantial amount of gear, maintaining a high level of physical fitness is critical. Couple with that the fact that we may then be then diving for 3-6 hours each day. In many ways, the very act of cave diving here is what keeps us in shape. Even so, we try hard to be as active as we possibly can even when we are not diving.
A positive attitude is also key to success.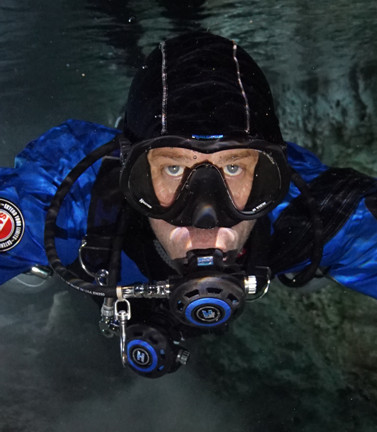 Some days, things do not work out the way we planned. Being able to shrug it off with a laugh and focus our energy in another direction can make a huge difference in moral.
Working in a small team is another key to success. The more divers there are in the water, the more gear needs to be brought out.
From a purely logistical point of view, the fewer divers, the better. A small team also is much more efficient and effective once in the water.
A Common Sense Approach
Common sense is not something we are all born with. Much of what we learn when we begin to cave dive is based on a common sense approach. Having backup lights, a reserve of gas, a guideline, and receiving quality training all seem like obvious issues to address.
The early practitioners and innovators of cave diving had to figure it out as they went. Most of the rules we follow today to cave dive safely are common sense solutions to what were once very common and deadly matters.
We take that same mentality with us in the jungle. We have redundancy in our navigations systems.
A paper topographical map and compass will never run out of batteries. We reserve enough water to go in and out on our planned route, and we keep a little in reserve in case we have to divert in a different direction. Even today, we continue to learn on every foray we make out into the jungle.
Ultimately, it is time spent with good friends doing what we love to do that makes the challenges of it all worthwhile.