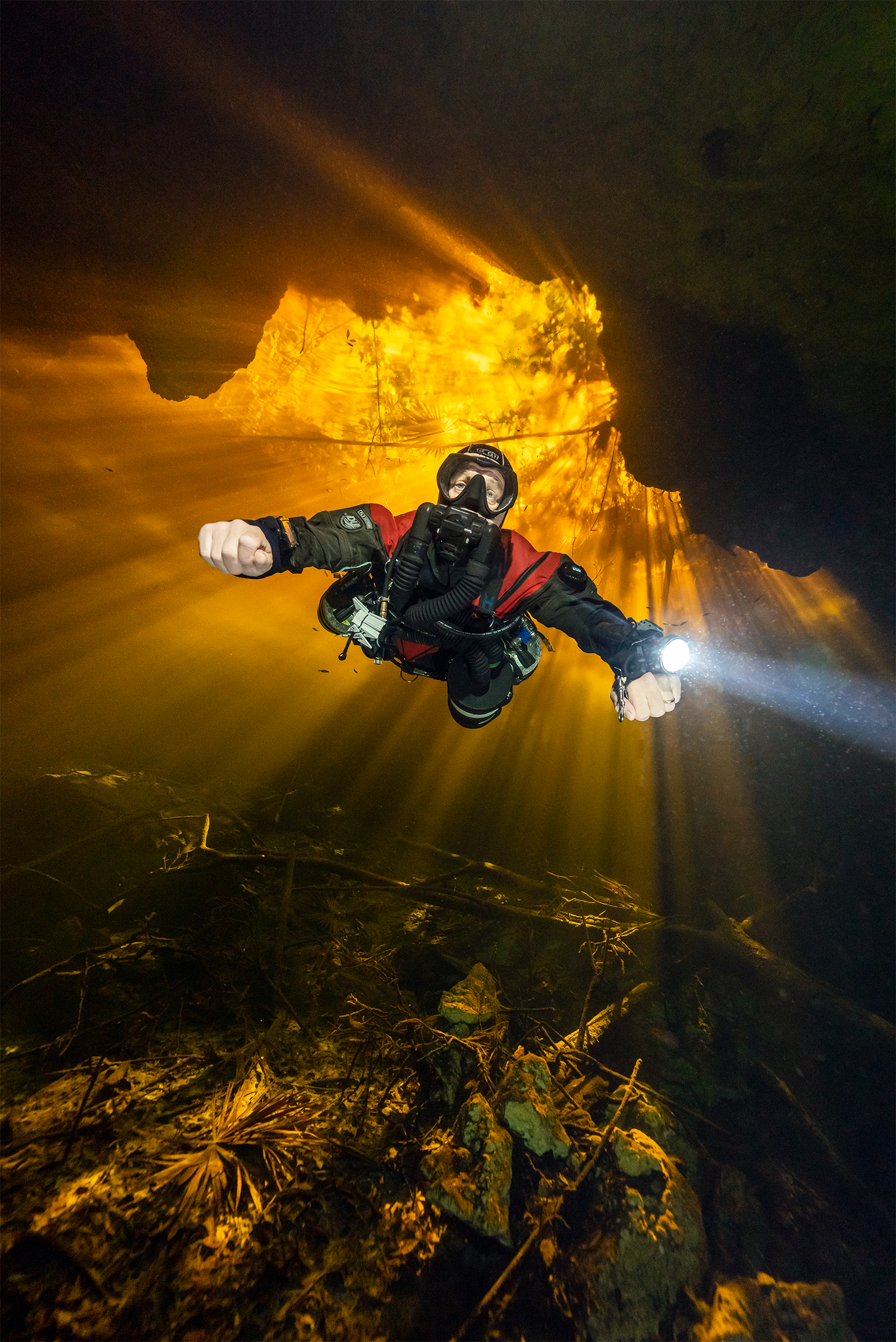 For the last twenty five years, CINDAQ (Centro Investigador del Sistema Acuifero de Quintana Roo) & MCEP (Mexico Cave Exploration Project) divers have actively participated in some of the most exciting cave discoveries in the state of Quintana Roo, Mexico. As a research & exploration group, our main objective is to use our expertise to further the knowledge of the extent of these underwater caves.

We do this by incorporating current technology to aid us in locating, mapping, and documenting the caves. With the information that we are able to generate we can help coordinate scientific study of the aquifer, and in turn use that information to educate the public at large.

Geology, biology, anthropology, archaeology, hydrology, underwater photogrammetry, remote sensing, climatology, and GIS are just a few of the scientific disciplines that we have helped with over the last two decades here.

We are aware that dedicating valuable time studying and documenting new discoveries is as important as the initial exploration effort. This specific area of Mexico offers endless exploration and scientific opportunities. In this sense, we feel extremely fortunate to facilitate research diving here.

As a team of divers, we feel that being purposeful underwater is key in achieving success with mission-specific objectives. We are looking at doing research work in total serenity, with minimum distraction and fuss, and without ever compromising the team safety aspects in our diving activities.

Well performing equipment is critical to this process. Our choice of equipment is based on practicality and reliability, especially for the tropical climate of the Yucatan.

Transporting equipment on rough trails with off-road vehicles (or on mules/horses) requires robust gear. Longer, in the field projects with basic base camp is another aspect of the diving that we need to account for. Gear that requires minimum maintenance in the field can be an important factor in carrying forward project efforts.

During the 2004-2005 field season, exploring the caves under the Sian Ka'an Biosphere Reserve, we started looking at the possibility of adding rebreather technology to extend some of the longer penetration dives that we were already doing in open circuit.

We opted for Halcyon's PSCR or RB80 in a backmounted version just like our illustrious friends in the Woodville Karst Plain Project (WKPP) were, and are still using today in Florida. The RB80 rebreather has proven itself to be very reliable during some of the most demanding dives. A real working horse that has rarely failed to deliver results.

The RB80 is mechanical, axial scrubber design, and a very intuitive rebreather unit that is keyed to the diver's respiration. The gas addition occurs when gas vented from the counter lung forces the actuation of downstream regulator valves. There are two downstream valves that provide redundancy in the event of a regulator failure. Both valves operate simultaneously. There is automatic removal of the water in the breathing loops through a well-designed water trap system.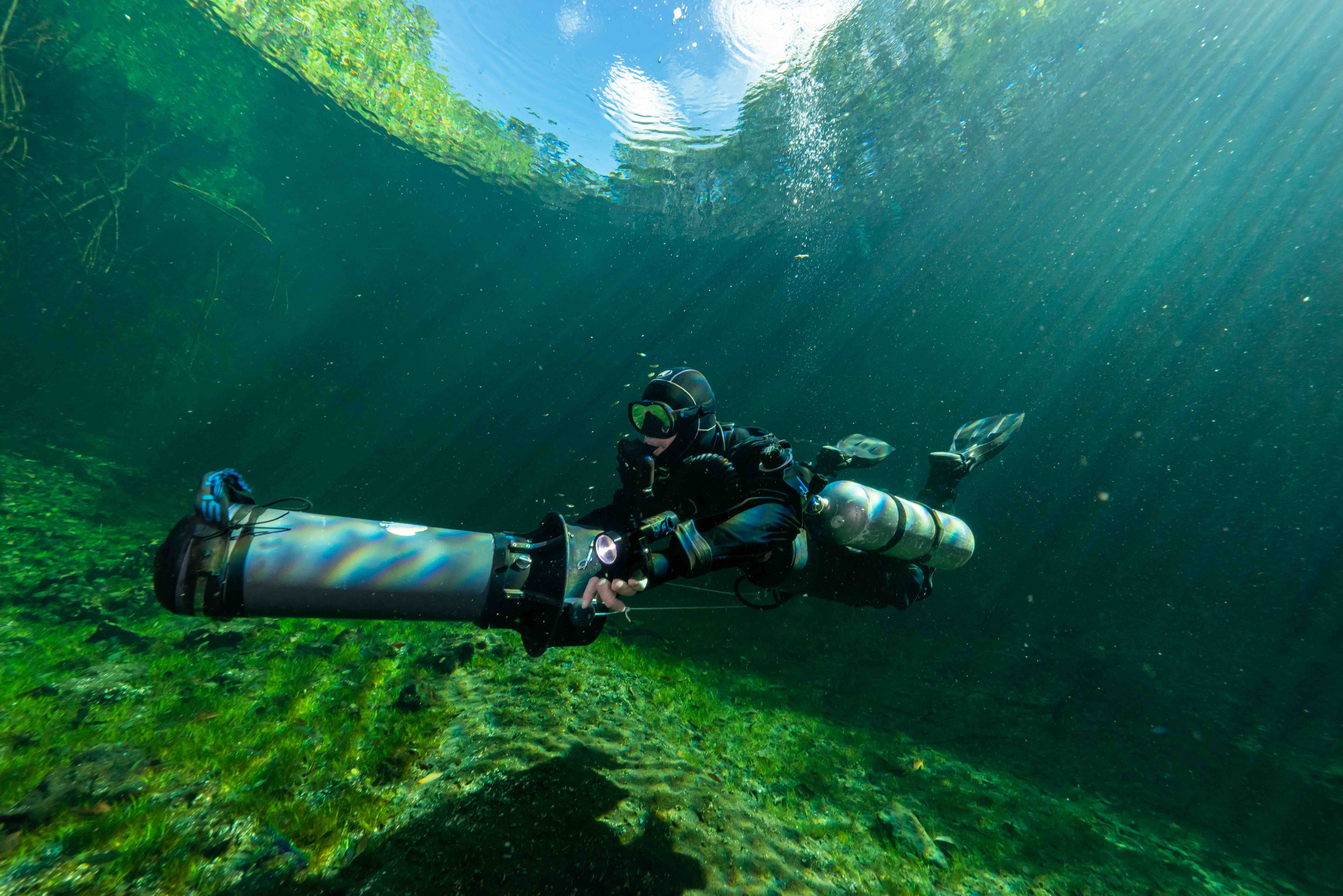 In 2015, the exploration group was actively looking at the possibility of sidemounting the RB80 to push through some of the most intricate cave passages in the Ox Bel Ha cave system. Over a few years, and in collaboration with Halcyon Dive Systems in High Springs, Florida, several changes were made to incorporate this reliable backmounted unit into a sidemount model.

Since then, the Halcyon's RBK sidemount rebreather has become another great tool for the team to use. It is a multi-option rebreather: easy to travel with, usable in backmount or sidemount or as an additional safety or deco rebreather, and easy to transport or carry over cenotes in the middle of the jungle, or through some dry section in a cave.
From January 2018 to February 2021, the CINDAQ & MCEP teams of divers have explored and resurveyed 180,000 meters (594,000 feet) of cave passages in Ox Bel Ha alone with the help of Halcyon's RBK sidemount rebreather.